Julie Christine Giguère has joined Andovar as Managing Director - EMEA. In that role, she will manage and expand Andovar's European team from the company's Budapest office. Drawing upon her experience and knowledge in AI, she will enable the company to continue its shift toward a more consultative approach that helps clients benefit from the use of machine translation.
"I am excited to join Andovar. I look forward to working with the Andovar team to improve processes and with clients to help them use machine translation tools more effectively" says Giguère. "Andovar is an excellent company with a bright future, and I am glad to be part of its leadership team."
Andovar CEO and Founder Conor Bracken says, "We are very pleased to have Julie join our team. Her knowledge of localization processes and technology will help us serve our clients more efficiently. We also look forward to growing our footprint in the Europe-Middle East and Africa region with Julie's leadership."
Giguère's Experience
Giguère, who is based in London, has more than 15 years of experience in multilingual communications in the private sector. She also has considerable expertise in cross-cultural leadership. Giguère has successfully taken previous companies through ISO quality certification and has considerable experience in improving production processes. She also has experience in machine translation (MT) and successfully completed the Oxford Artificial Intelligence Programme of the Saïd Business School.
She is a regular speaker at localization technology and artificial intelligence (AI) events including:
The Association of Translation Companies (ATC) Summits in 2017 and 2018

The European Union Association of Translation Companies Conference in Madrid in 2018

The Connected World Summit in London in 2018

The AI & Big Data Innovation Summit in Beijing in 2018

IP EXPO Manchester in 2019, a trade show designed to showcase IT innovations that help businesses become more competitive

TC42 Translating and the Computer Conference 2020

The International Conference on eLearning in the Workplace in 2020
She also chaired the TRITON Forum for recent advances in Technologies for Localization and is on the management team of the European Masters in Technology for Translation and Interpreting (EM TTI).
Giguère has a broad educational background that gives her knowledge of localization and other industries. She studied law and translation at the University of Montreal, Canada, literature at the University of Salford in Manchester, UK, and fashion design at Central Saint Martins, University of The Arts London. She has undertaken additional studies in Natural Language Processing (NLP), MT, and AI and consulted on AI before becoming part of the Andovar team.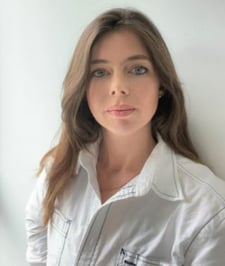 She has a proven track record of establishing global commercial partnerships and of driving global growth, working at financial institutions such as BMO Bank of Montreal and at Fortune 500 companies such as RR Donnelley, where she was production lead and a project manager.
She speaks English, French, and Spanish fluently.
About Andovar
Andovar Pte. is a turnkey localization agency headquartered in Singapore. Andovar provides customized localization solutions for Websites, documentation, eLearning, apps, games, software, videos, and marketing materials. It also provides subtitling and helps its client companies develop solutions to stay ahead of the expanding digital landscape. It advises these companies on the most lucrative markets for expansion and the localization required to be successful in those markets. It also helps businesses deploy the localization technology that is best suited for their businesses
Andovar enables brands to maximize efficiency and quality of localization to
deliver locally relevant brand experiences that drive global growth. It specializes in localization across several industries in including:
eLearning and human resources

software

ecommerce

apps

travel and hospitality

gaming

broadcast media

corporate marketing communications
Andovar has worked with several international companies including Amway, Spotify, Oracle, Agoda, Emtrain, and NetEase Games. It offers solutions that are scalable and provides technical and automation expertise. Andovar's approach is a consultative one that begins with information-gathering to understand the clients' needs. It then uses technology and reference materials to begin the translation process. The process moves through several stages, including translation by subject matter experts and editing by senior editors.
Andover has more than 5,000 translators worldwide who can work with 200 language pairs. It has translated more than 1 billion words. Andovar has six global offices to provide round-the-clock customer service. It maintains project management, account management, and sales staff at its Budapest office to support key European accounts. In addition to the Budapest office and its Singapore headquarters, Andovar also has offices in Bangkok, Thailand; Kolkata, India; Medellin, Columbia; and Miami, USA.