Yes, we are 10 years old!
When Irishman Conor Bracken registered Andovar Pte. Ltd. with Singapore's Accounting and Corporate Regulatory Authority on February 8th 2007 little did he know where the journey would take him.
Let's take a quick trip down memory lane through the company's defining moments in the last decade.
Humble Beginnings
Almost at the same time as the Singaporean entity, we registered a subsidiary in Thailand, and the first real office was opened in Bangkok. While most localization companies set up close to their client base and later on try to outsource production, Andovar did the opposite. From the very beginning until today, our business model has been to stay competitive by placing production in low-cost locations while selling to developed markets.
The beginnings were humble, the team was small and the premises uninspiring. At first, the team was under 10 people, many of whom are still with us, such as Digital Media Producer David Scott and Project Manager Sue Lee. All of the work came from a few key clients and new business was hard to come by. Many prospects did not feel comfortable sending content to a small unknown company in faraway Asia.
Things started to change with the arrival of the first sales person – Russell Winterbotham in late 2007. Originally from England, Russell found his calling selling localization solutions. Sales started to grow, turnover exceeded $1 million in the first year, and that allowed the company to expand. Russell is still with us, but has been promoted to VP of Global Sales and now manages a whole team of sales people.
In 2008, we've moved to our current address in a standalone house with a garden in a side street off Sukhumvit Road, the main thoroughfare of Bangkok. In 2010 we added a second recording studio to cope with the increasing demand for audio services.
International Expansion
[fusion_separator style_type="none" top_margin="0" bottom_margin="40"][/fusion_separator]
Even though we were already able to win clients from the world's largest market for localization – USA, servicing them from Southeast Asia was hard due to time zone differences. This led us to the decision to establish a North American office in Miami in May 2011. In line with the philosophy of keeping costs in check, the main office to serve the Americas was opened in South America, at first in Argentina, but moved to Medellin, Colombia in August of the same year.
Setting up offices 12 hours away from Thailand meant that for the first time we could cover nearly the whole 24-hour day. This allowed us to not only serve the American clients better, but also to speed up production by handing off projects between offices as the day ends; critically important for urgent jobs.
Meanwhile, the resilience of the Bangkok office was tested through severe floods in 2011 and street protests lasting many months. The experiences taught us that offices in different countries and entrusting our IT infrastructure and file storage to the Cloud had additional benefits we had not foreseen.
The next step in our international expansion was opening an office in Kolkata, on the east coast of India in February 2014. We chose the location to capitalize on lower costs of doing business coupled with it being very accessible from Bangkok on a 2-hour flight. You can read more about the reasons here.
Many have expressed doubt on Kolkata as the choice for our India office, and suggested Delhi, Bangalore or Mumbai instead. However, the office has proved a success and has been growing every year since.
What's Next?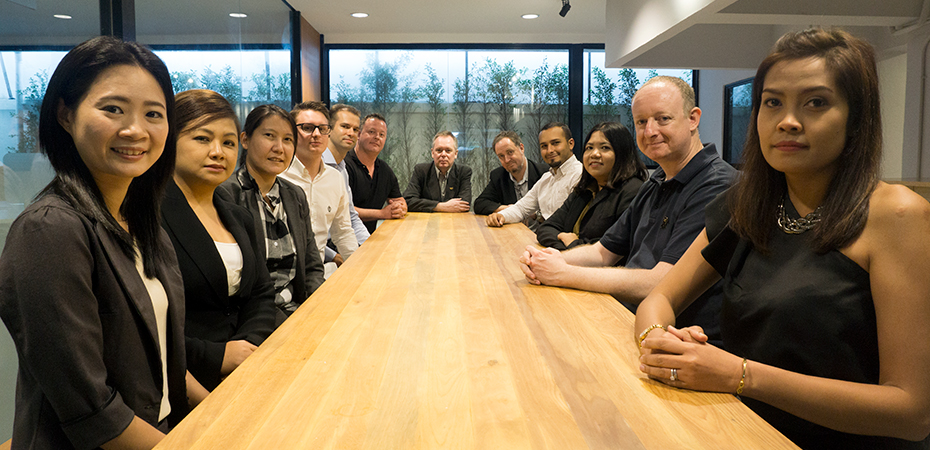 We don't want to brag, but things have been going well for Andovar and in late 2016 we completed an expansion of the Bangkok office to create additional sitting space, as well as build the third and most high-end recording studio. We are also growing the Colombia and Indian offices, and preparing for the next big expansion – Europe. It will give us ready access to European clients and reduce the requirement for late shifts in India and Thailand.
Here's to ten more successful years!