E-learning plays an integral role in many organizations' skills development programs. This fact is particularly true for multinationals and other businesses with remote teams spread across various locations. Online classes provide a convenient way to train the workforce regardless of location.
Turning to e-learning allows both companies and personnel to leverage significant energy, financial, and time savings. However, enhancing accessibility and the quality of e-learning materials can be challenging. Organizations must find ways to overcome technology and language issues to deliver value to trainees.
Effective localization ensures that learners take advantage of the same training experience despite language differences. Fortunately, global providers of multilingual content solutions like Andovar make it easier for organizations to create high-quality materials for in-house training.
Successful e-learning localization tips
Many companies that successfully train a wider global audience take several critical steps when developing e-learning material. Meticulous localization is undoubtedly one of the significant factors that make a difference during the process. Successful localization entails extending the language translation effort to peripheral translations.
Proper planning can save you time and money by reducing the risk of errors and the need to rework course material. One approach is to opt for a lean course structure to more conveniently adapt to other regions or markets. By doing so, you will find it easier to handle the most complex sections of the localization project without undermining the end product.
Here are viable ways to maximize the quality of the final materials.
Expand the space to maintain readability

Chunks of text are difficult to peruse regardless of the language. This fact also applies during the localization of eLearning material. Hence, the need to avoid composing text-heavy materials, particularly within graphical elements. With some languages, it is common for text to occupy a larger linear space.
In such cases, you need to reserve additional whitespace to avoid using small font sizes, which may be harder for trainees to read. This dilemma is due to the fact that a sentence with an identical meaning may be longer than its source language when translated using the same font size.
Thus, there is a need to ensure that text holders can accommodate the longer sentences. Text holders like menus and horizontal navigation bars should be flexible to avoid unwanted complications. Failing to reserve adequate space for the expanded text can necessitate reworking of the content, which compromises localization efficiency.
Define the scope of localization
Localization encompasses various aspects of elearning material. It goes beyond text since the project also covers video and audio transcripts, graphical user interfaces (GUIs), resources, and images. Assessing the scope of the localization during the early stages of the project is vital to improving the quality of the results.
When dealing with GUIs, video, and audio elements, you should consider translating text appearing on elements like play (▶), pause (II), previous, reload, next, home, and audio. On the other hand, using symbols eliminates the need for localizing these elements.
When defining the scope of your project, take into account the learner-friendliness of the interface. Consider incorporating a versatile interface that allows users to select a language. More importantly, ensure that at least 70 percent of the e-learning pages have whitespace.
Experts at Andovar recommend working on a global version of the training material during the initial stages before adapting the individual markets' courses. Opting to start with the content for specific regions and attempting to create other versions without the leaner global model is an inefficient approach. Starting with the global version is undoubtedly the cheaper and faster option.
Put in place reusable assets
Many elements of e-learning material repeatedly appear throughout a single course or several courses. You can streamline the localization process by setting up a frameset repository containing these elements. In doing so, you save time and effort to ensure that the project progresses more efficiently.
This approach minimizes the post-translation layout reworking and quality checks necessary for each course. In the end, you produce high-quality training materials to suit your organization's needs.
Opt for flexible graphics
When it comes to graphics, consider separating them from text elements. You can also elect to scale graphics dynamically to accommodate expanded translated text strings. To boost efficiency, ensure that the computer-assisted translation (CAT) tool can automatically detect all translatable elements. SDL Trados Studio is one of the most popular CAT tools used by localization experts.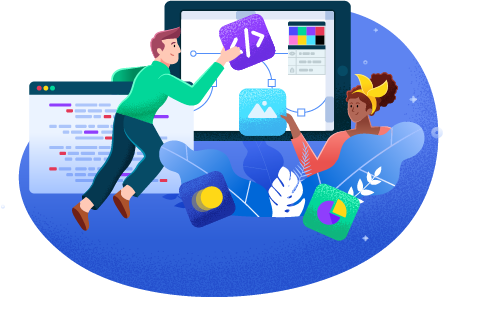 Automatic detection reduces the risk of errors and saves the translators valuable time. Once a CAT tool detects translatable elements, it protects them using tags. As a result, the elements appear in the right positions in the translated version. This approach eliminates the need to cut and paste the text elements.
Working closely with reputable providers of multilingual content solutions, such as Andovar, enables you to leverage this technique. In the end, the approach prevents complications during the localization process.
Ensure cultural sensitivity
Cultural sensitivity is a critical factor that requires considerable attention during localization. This aspect involves paying attention to location-specific considerations, which go beyond language. You should understand that some popular symbols and images lack universal appeal. Hence, trainees in some regions may interpret these elements differently.
Conduct thorough research or enlist the help of localization agencies with experience in specific regions. Global translation services provider Andovar is active in several regions around the globe, including Europe, Asia, and North America.
For instance, learners in Asian countries like India may find an owl icon distasteful. In some regions, an owl icon stands for academic excellence and knowledge. Indians associate the symbol with stupidity and view it as a bad omen. For this reason, consider developing a global version of courses first before adapting the content to suit local audiences in specific markets or regions.
Colors, graphics, and images can convey different messages, depending on the target audience's location. Colors and imagery that enhance engagement in one region may yield unfavorable results in another market due to cultural differences. As such, conduct thorough research to identify the appropriate graphics, images, and colors for a specific market.

Additionally, real-world examples, stories, and scenarios incorporated into the coursework should be relatable and relevant to learners in the target market. Taking into account local currencies and other aspects helps boost engagement levels. Incorporating relevant examples and topics adds value to the audience.
Meanwhile, using abstract topics that are unrelatable to locals may be confusing to the trainees. Avoid filler content that reduces the training material's quality and adds no value to the target audience.
Keep multimedia content simple
To reduce cost and enhance efficiency when working with multimedia content, keep the files smaller. By doing so, you mitigate issues associated with redesigning graphics and videos. Keeping the content simpler ensures that it becomes easier to handle complex tasks, such as cue-point calculations and audio synchronization.
Experts at Andovar understand the need to opt for smaller audio files than full files per slide when synchronization is necessary. Smaller files enhance efficiency whenever synchronization involves on-screen elements like bullet points. This approach simplifies the process by allowing you to use a separate audio file for each bullet point.
With smaller files, you eliminate the need to synchronize individual bullet points with the audio for each language.
Evaluate expectations

Evaluating expectations with subject matter experts is a critical step that can make a difference in your localization project's quality. Hence, the need to ensure that all collaborators understand the requirements. Language experts involved in the localization project bring specialized knowledge, experience, education, and interests to the project.
Every team member needs to complement the input of colleagues to ensure the quality and accuracy of e-learning localization.
Adopt a universal style
The best way to enhance the quality of e-learning materials is to adopt a universal style, which communicates the message clearly irrespective of the language involved. This approach ensures flexibility and allows you to localize additional languages if the need arises.
Many organizations are reaping the benefits of adopting a universal style by ensuring consistency in the e-learning content's tone. Furthermore, a universal style establishes a format based on the source language. In turn, localization projects adapt the format to suit the needs of specific markets.
Reading orientations play a critical role in improving the learning experience of trainees in the Middle East. Also, it is vital to internationalize currency and dates to avoid any confusion. When planning elearning localization, you need to ensure that the learning management system (LMS) works well with the target languages. Some languages like Arabic require specialized tools with a flipped interface to handle the right-to-left requirements.
On the other hand, the level of user interaction involved in the course. Some multimedia file types, particularly larger ones, can be challenging to handle. Experts at Andovar recommend taking advantage of HTML5 when designing for localization purposes.
Final thoughts
It is no surprise that an ever-increasing number of multinational and multilingual organizations take advantage of enterprise e-learning localization services offered by experienced service providers like Andovar. Well-prepared training material can cover the needs of a large audience irrespective of location and language. As a result, the organization does not need to develop new training material for individual countries.
Implementing training separately uses considerable resources in each location. In most cases, organizations implement the original training having factored in localization.