Skillsoft is the world's leading corporate learning company, with the largest library of courseware in the market. Founded in 1998, it has grown rapidly to become the global industry leader with 2,500 employees across multiple locations in North America, EMEA and APAC.
Skillsoft had an IPO under the stock symbol SKIL in 2000. As a listed company, it acquired Books 24x7, SmartForce and NETg (an ex-client of Andovar's). Skillsoft went private in 2010 after being bought out for US$1.2 billion by SSI Investments. This was followed by two more acquisitions: Element K in 2011, and MindLeaders (another ex-client of ours) the year after. In 2014, Skillsoft was sold again to Charterhouse Capital Partners, this time for $2B. Later that year, in one of the largest deals in the industry, Skillsoft acquired SumTotal Systems, a provider of a major learning management platform. The most recent acquisition was in 2015 of Vodeclic SAS, a Paris-based provider of video courses.
To date, more than 400 million users have been trained with over one billion learning modules according to Skillsoft's website. Its current database of original content consists of over 120,000 different modules, including 7,000 courses, 65,000 videos, and 46,000 books. Skillsoft operates in 160 countries and 29 languages. Courses can be purchased directly from Skillsoft's catalog or via its channel partners. Nowadays, many courses originally created by Skillsoft are handled by third-party eLearning providers hired to customize and update them by their clients.
In this blog post, I'd like to talk about localization of Skillsoft's courses, but let's start with a quick overview of how they are created and delivered to the learner.
Course Structure
SkillStudio is a template-based authoring tool created by Skillsoft that allows users to create or enhance existing training content. This enables organizations to both leverage their investment in Skillsoft courseware and create new courses with the same instructional design, navigation, behaviors, and overall look and feel of off-the-shelf courses. Complete courses cannot be cut, copied or pasted; however, course components can be moved and reused from one course or page to another.
SkillStudio is a high-level authoring tool, which allows even non-professionals to create and edit courses. It may not be as powerful and intuitive as other leading eLearning authoring tools and the interface looks dated, but it has proven robust over the years and still receives regular updates. The latest version at the time of writing is 1.20 (Release Notes).
Skillsoft recommends that courses created in SkillStudio follow a standard naming convention, known as "Course ID":
This results in names such as: mo_bgex_a10_dtc_enus for "Microsoft Office Curriculum, Beginning Excel course path, 10th course in the Desktop Series, Customized, US English locale". This is also an easy way to quickly identify Skillsoft courses.
Courses created in SkillStudio follow a pre-determined structure. They start with a Course Overview explaining the topic and length of the course, followed by Lessons, each with its own Overview slide. Every Lesson contains one or more Topics which present instructional course content. Topics can be further subdivided into Learning Points and are associated with Objectives the learner is expected to obtain.
Once this basic structure is in place, you can use templates to create Pages within each Topic. SkillStudio offers many template types divided into three categories:
Instruction - to present specific information,
Question - to provide an opportunity to apply the learner's knowledge,
Caption - to provide narrated animations.
Each Page consists of two tabs:
Writing – contains several fields with text that appears in the Lesson and can be supplemented with audio and images.
Graphics – allows to view and change the layout of on-screen elements and adjust animations and videos using the Timeline functionality.
At the end of the course, you can add a Resource list to include: References, Job Aids, Follow-on Activities, Acknowledgments, and Blended Learning Resources.
Once done, you can use the Preview and Audit tools in SkillStudio to check for errors or warnings, and finally publish the course either locally or directly to a learning management system (LMS).
Delivery of Courses
Skillsoft offers two LMS platforms: Skillport and Percipio. Additionally, since SkillStudio supports both the Aviation Industry CBT Committee (AICC) and Sharable Content Object Reference Model (SCORM) eLearning standards, learners can also access the courses using almost any third-party LMS.
Skillport is a cloud-based LMS that streamlines training content delivery. It supports more than 25 spoken languages, and its localization capabilities can support up to 13 site languages. The LMS can be used on its own or integrated with a company's existing applications.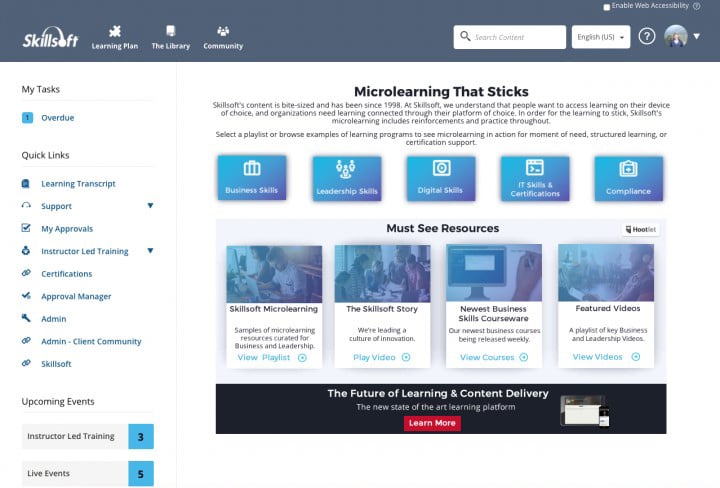 Percipio was called "the Netflix of eLearning" by Skillsoft. Launched in 2017, it is a next-generation LMS designed to enable organizations to access a variety of curated content including micro-learning, courses, audiobooks and eBooks across devices. Percipio is not the next version of Skillport and is not created to run the standard SkillStudio courses, but rather a completely new delivery platform.
Skillsoft will continue to support Skillport users.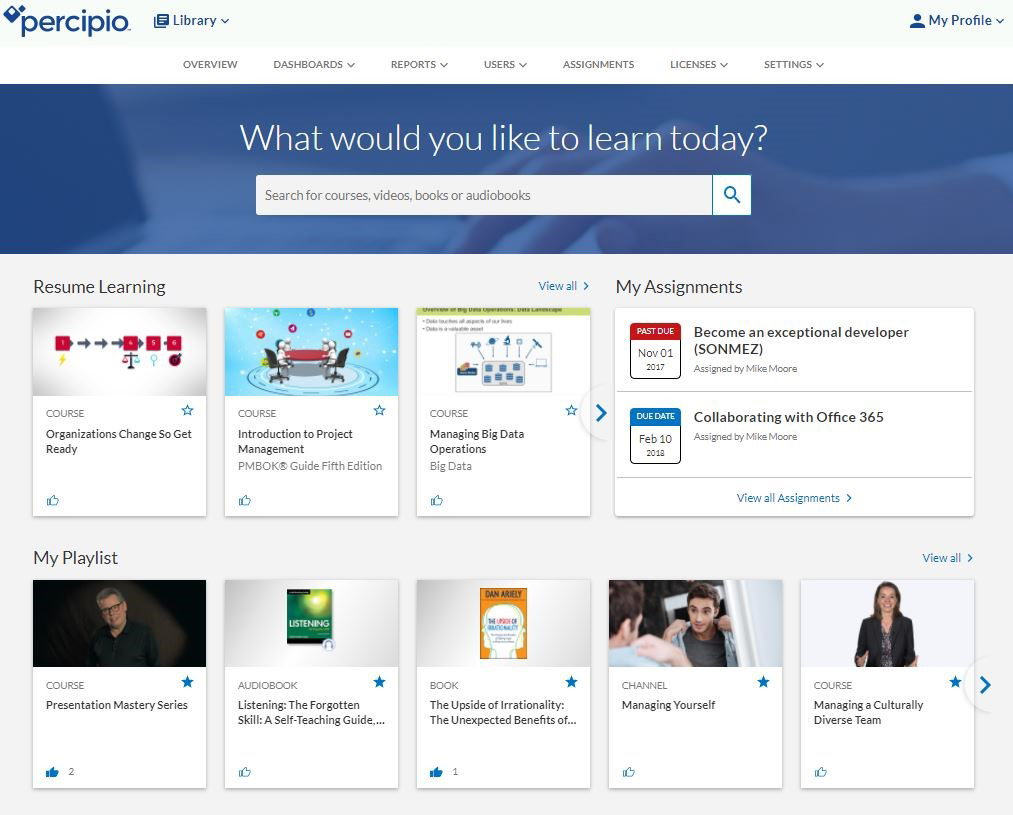 Localization of Skillsoft Courses
Skillsoft calls its approach to localization: Global Reach; Local Adaptation, which means combining content translation with a sensitivity for local cultures. This includes adaptation of currency and time settings, character and location names and dialects, as well as the suitability of visuals and scenarios for each market. Courses may also need to be customized to address country-specific laws and regulations, for example in the case of Health and Safety content. Skillsoft partners with Language Service Providers (LSPs) to facilitate this translation strategy.
Only SkillStudio can be used to edit and localize the courses. As a first step, it is useful to view a Localization Report in SkillStudio by clicking on Reports->Localization Data.
The first section of the output looks like this: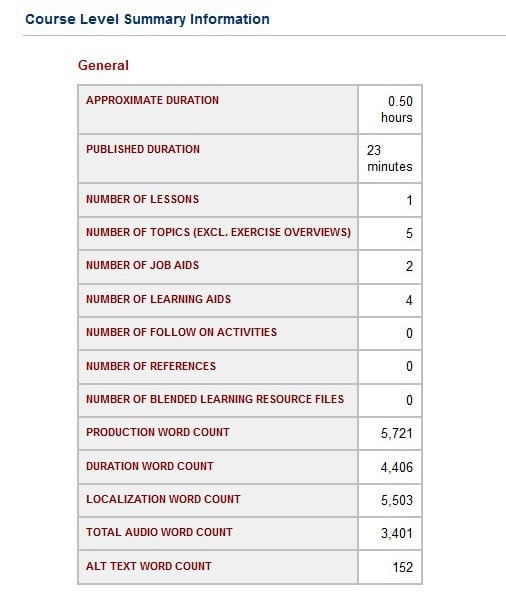 Following sections include more details about word counts, audio, video and graphics. This is a great way to quickly get an idea of the effort, time and cost required to localize a course. In addition to this basic information, more detailed reports are available, such as the Narration Report.
Text Localization
Text translation is a requirement of all eLearning localization work. In the case of SkillStudio, the process is simple and straightforward.
Unfortunately, there is no support to switch the interface to right-to-left for scripts like Arabic or Hebrew. However, for most other languages SkillStudio will replace user interface (UI) strings automatically, so only course content (and a Glossary / Index file, if present) needs to be translated, .
Course text can be exported in plain text (.txt) format using the native import & export function in SkillStudio. Localization engineers then analyze and prepare the files for localization. Captions for audio, video and animations are included in the export, but time codes have to be adjusted manually by using subtitling software or directly in the subtitle file, e.g. Web Video Text Tracks (WebVTT) format (.vtt) files can be edited in any text editor. Normally, SkillStudio itself cannot edit captions, but it is possible with a special version of the tool.
Andovar follows industry best practices when localizing course text:
We select the most suitable translators and editors depending on the type of course. For example, the same person should not translate a course about lawnmowers and another about sexual harassment at work, even if the language pair is the same.
We cooperate with the client to create reference materials for the translation, such as a termbase and style guide. These documents help to improve the quality and consistency of translation. If the course is part of a series and previous translations are available, we use them as Translation Memory on the new project.
The text is prepared by our engineers and sent to translation in a CAT Tool-friendly format. Working in a CAT Tool not only allows translators to work faster, but also provides them with useful functionality, such as built-in QA checks and termbase integration.
Once the translator is done, the translated text is sent to an editor who compares it with the source and makes any changes, if necessary.
Finally, the translation goes to Andovar's internal QA department for quality checks before it is integrated back into the course.
As a final QA step before delivery to the client, the translations will be tested along with non-textual elements in a completed localized build of the course. A native-speaking tester will act as the end user and take the entire course from start to finish looking for issues.
Graphics Localization
Courses may contain static graphical elements such as photos, clipart or charts. If required as part of localization, they can be easily resized, replaced or manipulated using the Graphics Menu in SkillStudio. Textboxes accompanying graphics can be resized and edited as plain text in the dedicated Writing tab.
The Graphics tab is designed as a WYSIWYG (What You See Is What You Get) editor, which means you can see the result of the adjustments live.
In some cases, it may be advisable to change the images completely to match the new locale, for example to show persons of a different ethnic background.
Audio, Animation and Video Localization
SkillStudio allows the use of animations in courses for instructional and visual appeal purposes, although they are not available in all templates. Designers can create animations on the Graphics tab using the Timeline window. If any changes are required during localization, they can be done using the same tools.
You can also add video content to certain template types to make your courses more visually engaging. Videos enable the content development team to use spoken examples and realistic dialog interactions to expand upon new concepts. Since they typically show actors engaged in conversations against a static background, they require audio to be lip-synced.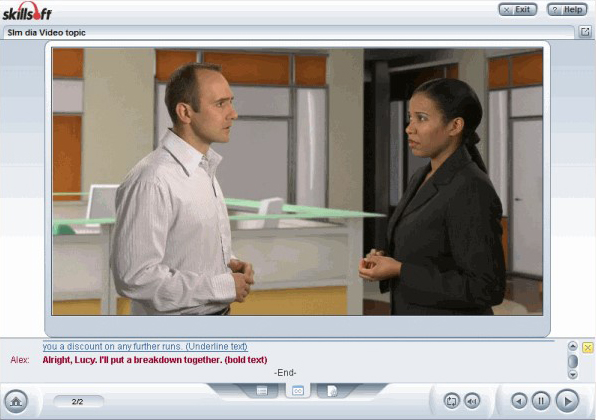 The best approach to localize videos is to dub the original audio with new actors in the target language. To do this effectively the original audio track of the characters is removed. Sometimes, this results in the loss of background sounds and ambiance such as doors closing, office noises, phones ringing etc. As this audio is an important part of the video adding believability to the scene, we often need to recreate this background ambiance from scratch using an industry technique called "Foley". This means that sounds such as footsteps, doors, phones, office chatter, etc. are recorded individually in our recorded studios, and then mixed back in with the new localized voice acting to create a smooth and authentic sounding backdrop for the localized video.
When recording the character's voices in new languages, it is important to match the age, tone and attitude of the original actors. As a standard part of our process, we prepare a selection of voice samples from our database of voice actors that we asses to be the most appropriate for each part. These samples are sent to our client to review and complete a final casting before recordings starts.
There are two types of audio supported by SkillStudio: Legacy and Speex. Legacy audio files (.we) are a Skillsoft proprietary format and are no longer recommended for use. Speex (.spx) is an audio format designed specifically for speech recording. You can also use Wave (.wav) files, however they must adhere to strict guidelines and be of a specific resolution and audio format.
An important thing to keep in mind is that translation of scripts for video dubbing requires a special approach. At Andovar, we sometimes get scripts from clients which may be correctly translated but are not suitable for recording. Common issues include:
translated lines too long,
language too formal (written style rather than the natural expressions and style of spoken language),
translators didn't watch the videos as a reference.
Sometimes, technical tricks can be used to accommodate an utterance that's too long for dubbing, but it is not always enough and risks making the resulting localized video sound unnatural. It is better to use translators experienced in translation for dubbing, give them clear instructions and ensure they watch videos as reference.
Complex videos with on-screen text and effects can be created in video editing software, such as Premiere or Adobe After Effects, and then added to SkillStudio to make the courses more attractive visually. Audio contained in such videos can be replaced with a dubbed version provided source files are available. Without source files, it may be possible to recreate the audio from scratch based on the video but it's a more laborious process.
Andovar's Strengths
11+ years of experience in SkillStudio localization.
Some of our staff even more experience at previous employers.
Localized hundreds of courses including video dubbing and translation.
Full range of languages.
Strengths in audio:

Highest quality lip-sync and dubbing,
Wide selection of experienced and talented voice actors in all languages,
Attention to detail,
Ability to accommodate tight deadlines,
Can scale up to handle high volume,
Own on-premise studios, work with partner studios if needed,
In-house integration localization expertise,
All languages, including English.

Competitive pricing thanks to low-cost office locations.
Global support from our offices in USA, UK and Ireland; as well as production offices in Asia and South America .
Reach out to Andovar today to discuss localization of your eLearning courses.