The evolving gaming industry is generating many opportunities for games localization professionals. Global multi-language vendors (MLVs), medium-sized and smaller MLVs, game specialists, single language vendors (SLVs), crowdsourced localization efforts, and freelancers are all currently in high demand as the sector experiences explosive growth. After all, research has shown that large game developers do less than half their own localization work, using in-house resources and outsourcing for the rest. Though this divide may seem like it is limiting opportunities for vendors, the sheer size and scale of games localization today means there is still a substantially large slice of pie for games localization providers.
In the global games localization space there is currently a varied mix of larger MLVs, including a few generalist LSPs, which all serve the gaming market and other types of localization performed across the industry. The remaining market share is split among numerous mid-sized and smaller providers.
Most localization providers, large and small alike, offer similar services, such as terminology and text localization. More experienced vendors may include additional services such as voiceover, localization testing and community management services, among others.
Game localization providers have largely expressed optimism about growth, with many reportedly projecting 20% to 30% increases. This is despite the fact that the majority of their work is not centered in mobile gaming, which is the most rapidly growing gaming market sub-sector.
Subcontracting between LSPs is a major source of business for medium-sized and smaller localization providers. Larger LSPs typically subcontract work to other providers while some prefer outsourcing to SLVs and other freelancers they've built relationships with. Some providers (such as us here at Andovar) depart from the typical production models of many of the top providers and do not subcontract out, instead managing all localization work for clients directly.
Changes in gaming and corresponding localization market conditions
Several major trends are reshaping the worldwide gaming market with largely positive implications for games localization companies:
Gaming is becoming the most popular recreational pastime globally.
Several key geographic regions are becoming focal points for gaming sales.
Game sellers are transitioning from a single-sale model to games-as-a-service.
Game localization is becoming increasingly integrated into earlier stages of game development.
Game localization has become a more continuous process due to the industry-wide adoption of patches,

DLC

and other updates meant to elongate a game's lifetime.
In 2018, the global gaming market was reportedly worth US$138 billion, with the games localization sub-sector of the gaming market reportedly accounting for around 1% of this total value, or about US$1.38 billion (though many argue that its real value is much higher). It is predicted that the growth of the gaming industry will continue to aggressively increase year-on-year, at around 10% CAGR, to reach a volume of US $180 billion by 2021.


Global game localization revenues in 2019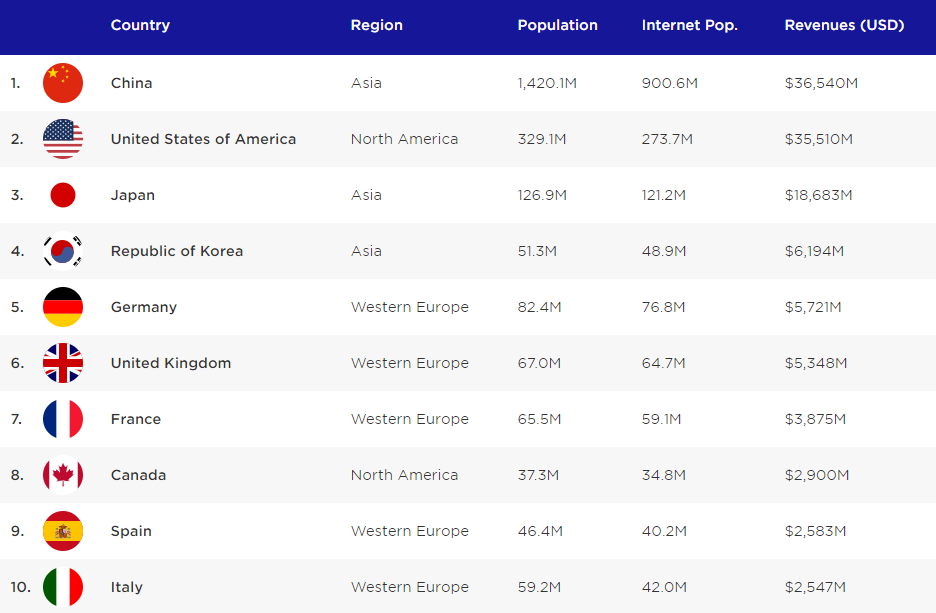 Source: ©Newzoo, 2019
Determining which games get localized
Gaming is becoming the most popular recreational pastime in the world. However, definitively stating the role, size and market forces in the game localization appendage of the industry is difficult. For one thing, a game might be localized just a few times, but it may continue generating revenue in multiple ways for years to come.
Not all games undergo localization, and some are localized for only a pretty small number of international markets. For example, Grand Theft Auto V, the world's most popular title in any form of entertainment (having sold 130 million units for a total revenue of about US$6 billion) was only localized into 12 languages total (based on platform and purchase area).
The developers reasoned that the game's sales were indicative of the game localization market size in contrast to global revenues for all games. In fact, gaming companies typically don't base their game localization plans on language, but on markets that have the highest potential for game spending. Game companies may also decide to localize for markets where consumers are expected to continue spending on additional content for games they've already bought.
Game localization operation and distribution
Reportedly, close to 75% of the game market's total global sales are just from the largest game sellers, which includes Electronic Arts (EA), Tencent Games, Sony, Nintendo, Activision Blizzard, Bandai Namco and Ubisoft, among others. Reportedly, an industry study indicates that more than 50% of market share is being maintained by just the 10 largest game sales companies (as of 2017). These companies are typically branded by their ability to provide hit games of the highest production quality, and whose development cycles normally come with comparatively massive development and marketing budgets. As a result, these games naturally call for the industry's most extensive localization work.
The remainder of the worldwide gaming market consists of a field of much smaller game producers, ranging from mid-sized companies to indie developers who independently publish their games on open platforms (such as Steam, the Epic Games Store and GOG, as well as on the digital stores of major consoles such as the PlayStation Store, Xbox Games Store and Nintendo eShop).
Regional gaming market growth
A large percentage of worldwide game revenues are from additional purchases gamers make after an original game purchase, which is especially the case for the mobile gaming sub-sector.
The Asian gaming market in particular is the world's fastest growing, with huge revenue numbers in both console and mobile gaming.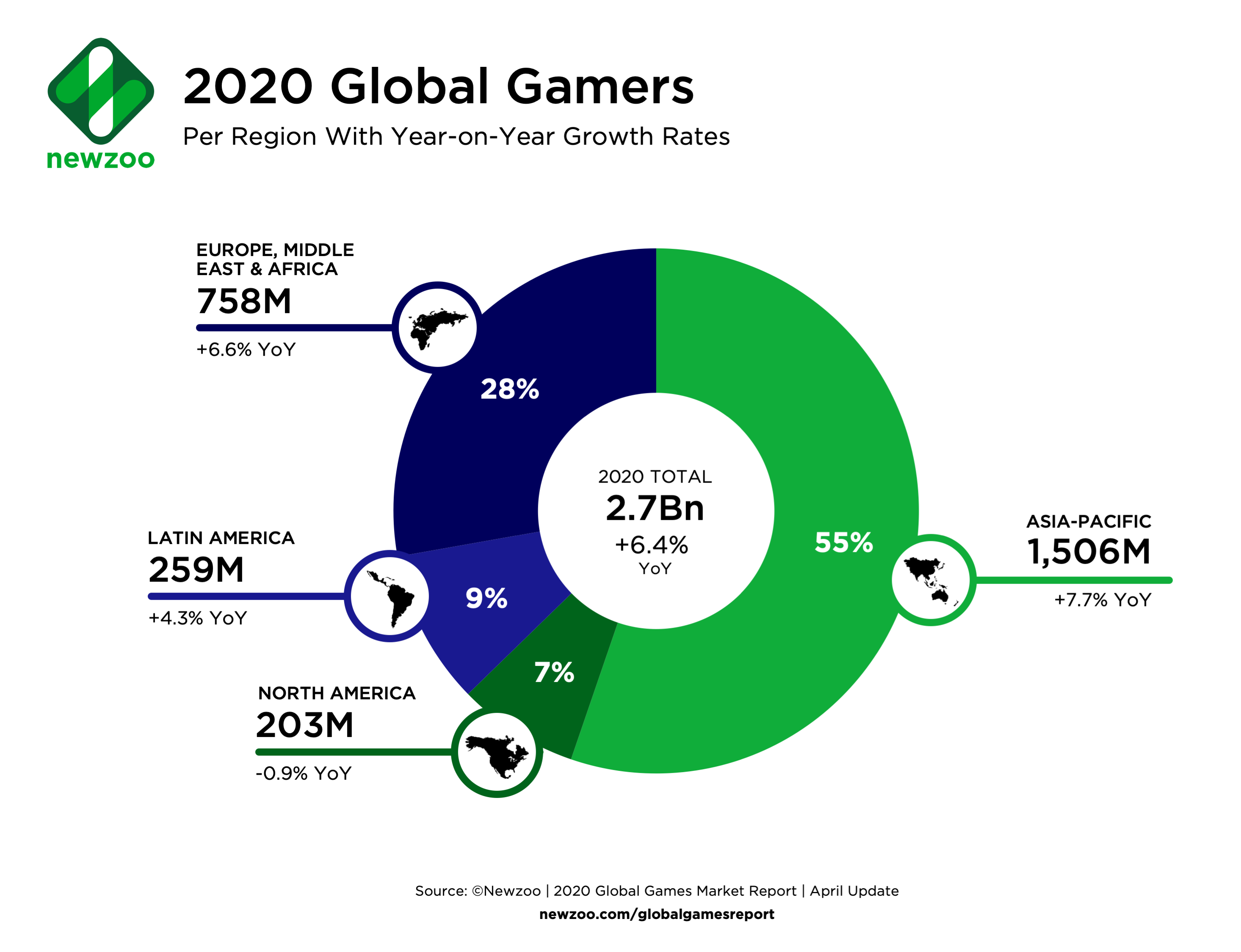 Japan
Japan is home to about 67.6 million gamers and is one of the world's top three video game markets, along with China and the US. Last year, the Japanese game market generated around US$19.2 billion. The country is a major game exporter to the west. LAI Global Game Services (Tokyo, California and Beijing) is a major market force in Japan's gaming industry, with games accounting for about half its revenues. Role-playing games in particular are exceptionally popular with Japanese gamers and have an ever-growing western fanbase. Japanese players are well adapted to imported video games as well with some western titles doing exceedingly well in the country despite differences in culture and gaming attitudes.
China
China is the world's largest video game sales market on earth, generating 41 percent of global market revenues. About 90 percent of China's PC gaming market is dominated by the multinational conglomerate Tencent and a couple of other Chinese game makers. However, western games are still in very high demand in China and continue to sell well. It is important to note that game censorship in China is strict and so are Software as a Service (SaaS) regulations, which applies to many games now sold as-a-service. With this in mind, it is clear that only top-quality localization specialists should be consulted when bringing games to the Chinese market.
A curious phenomenon in the Chinese gaming market is reportedly a tendency for only certain games to take on rapid growth and join the ranks of the very few that are being played ubiquitously in the country. This leaves most games entering the Chinese market at extraordinarily high risk of not doing very well. Notwithstanding all these factors, there is still a lot of opportunity for a games localization company that wants to help Chinese game makers export their products vs. those who want to introduce games to the Chinese market.
South Korea
In 2018, South Korea registered US$5.6 billion in game sale revenues and remains among the global gaming industry's most profitable national marketplaces. South Korean gamers are usually adept at picking up both English and Chinese, so finding important terms in those languages in video games is not surprising or necessarily that difficult for them. The South Korean audience has been found to have very similar preferences in games as Japanese gamers.
Southeast Asia
Other reasons why gaming is booming in the Asia-Pacific region is reportedly due to growing regional incomes. According to recent studies, six countries across Southeast Asia (namely Vietnam, Thailand, the Philippines, Indonesia, Malaysia and Singapore) are making up a large percentage of the region's gaming market. The economies of these countries have flourished in recent times and are now home to growing middle-class populations. As these populations grow, more disposable income is spent on hobbies and leisure activities, which includes video games.
Games localization industry service model
The game localization process is undertaken shortly after and sometimes during development so that game makers can simultaneously ship various localized versions of a game. Localization work involves the translation of text strings from repositories and dubbing audio. Localizing text for user interfaces (UIs) can be automated using translation management systems such as memoQ and XTM.
We'll take a brief look at the general process here to understand the typical range of inclusions.
In-game assets
In-game assets localized in a project typically include:
Text content —

UIs

, captions, subtitles, in-game text files
Audio content — Voice-over dubbed audio files
Creative content — Localized graphics and other artwork
Localization testing
This phase of localization can include testing of all facets of the game experience, including UIs, play, audio, supplementary narratives and cutscenes.
Continuous localization
Continuous game localization applies to game patches and fixes, downloadable content, expansion packs, and other additional elements. Ongoing localization can also extend to providing help desk and tech support in multiple languages.
Language production
Large game developers use their own localization teams, including linguists, and work with outsourced providers to perform in specialty niches of the process. Smaller game makers send their localization work out to LSPs, freeing their in-house resources to concentrate on optimizing game product design. For others, as much as half of localization may be outsourced, especially longer projects or those with tighter deadlines that need highly-skilled localization vendors. For others, offering a high-quality proprietary localization process in-house is used as a selling point.
Game localization marketing assets
Game localization sometimes includes localizing game websites and marketing materials:
Marketing and advertising — Both in-print and digital advertising and marketing
Game websites — Text in graphics, descriptions, instructions, policies, updated information, etc.
Social media pages — Content for ongoing player-base engagement
Packaging — Labels and other text on physical packaging or accompanying digital files for download, instructions, policy statements, user manuals and other materials.
Localization-related services
Associated services that a game localization company is likely to provide include functional testing and support for developers during earlier stages of game production.
Localization technology
Most game localization providers in the industry use standard localization technology. New technologies are on the near horizon of widespread implementation and future tech innovations have started to become more commonly used in game localization processes.
Standard localization technologies —

Today's reliable game localization technologies include the likes of

memoQ

,

XTM

,

XTRF

and

SDL

software for managing translation. Additionally, there are an array of

translation technologies

that can be implemented based on which digital environment the game localization project is to be performed in.

QA checking and testing software

— Machine translation (MT) is a widely used technology in the localization industry. It's a very useful software tool for examining your game product post-localization. It's also a good evaluation tool for discovering new ideas and approaches to modifying a game's design during the localization phase.

Marketing technologies

— There are numerous options for integrating your game marketing programs and platforms. Some of today's sophisticated alternatives include

Sitecorp

,

AEM

, Drupal and various open source systems.

JIRA

is a popular option for process management.

Marketo

is widely used for email marketing. Numerous other programs offer game marketers important tools for integrating the gamut of necessary programs for localizing and marketing games on the global market.
User support — Automated systems enable such advanced

HelpDesk

platforms to index tickets and users, and to track open items, as well as to capture time-sensitive activities for escalation in order to routinely manage massive volumes of user and service data at rates that would have seemed impossible a decade ago.
VR and AR —

Both virtual reality (VR) and augmented reality (AR) technologies promise to disrupt the video gaming industry in years to come. Enhanced with AI technology, both may reach heights of sophistication that have yet to be imagined. As these technologies become more prominent in gaming, they can also be expected to play an increasing role in localization as well in many facets of the process.

Neural Machine Translation —

NMT

actually works through an manmade neural network. It's used for predicting word sequences and modeling them to produce translated sentences.

NMT

technology is becoming useful for more and more complex applications in localization work. However, only a more extensively equipped games localization company these days can be expected to be leveraging NMT. Currently, we can only speculate on the degrees of efficacy that the ambitious future generations will achieve through

NMT

technology.





Global gaming industry events
Worldwide, gaming market participants converge in a number of valuable national and global expos, conferences and other exciting industry events. These industry events feature unveilings of anticipated games, as well as announcements by companies about plans for new games or sequels to popular games. These are great venues to gauge reactions to new concepts during early development phases, which is key information for localization companies looking to understand the likelihood of obtaining major upcoming localization projects.
These forums, conferences and expos are helpful to any games localization company looking to learn about the process of drumming up interest or to gain inspiration or insight on innovations. The industry events also offer abundant opportunities for networking to identify partners, distributors and potential games localization partners.
Here's a list of just some of the many great periodic gaming events:


| | | |
| --- | --- | --- |
| Amaze | Game Developers Conference (GDC) | Ludicious - Zurich Game Festival |
| BlizzCon | Gamefest | Melbourne International Games Week |
| Devcom | Gamescom | Montreal International Game Summit (MIGS) |
| DICE Summit | Gamesforum | Nordic Game Conference |
| Dreamhack | IGDA Events | Penny Arcade Expo (PAX) |
| Electronic Entertainment Expo (E3) | India Game Developer Conference | Tokyo Game Show |
| EuroGamer Expo (EGX) | LA Games Conference | The Game Awards |
| Game Access Conference | London Games Festival | White Nights |
N.B. — Unfortunately, due to the current global situation with COVID-19 and the implementation of social distancing rules, many of these events have had to be cancelled for the year 2020. Many have taken to shifting their announcements and showcases to online platforms and making the events entirely digital, though it is expected that this is only temporary until a definitive solution is found to the current pandemic. We wish all of these events and organizers well and would like to encourage any developers and localizers to look forward to taking part in future events once the situation is safer.
Conclusion
Overall, there is an abundance of opportunity in the worldwide games localization market, and it can be expected to continue expanding along with the continued rapid growth of gaming as the most popular pastime in the world.
The international gaming market, though facing unprecedented challenges of its own during these times, is currently in a period of rapid growth while serving the needs of millions. Gamers and non-gamers around the world are turning to video games and developers are rising up across the globe. Now more than ever, quality localization is essential to getting games into the hands of the global gaming market.
The Andovar advantage
If you're looking for a turnkey games localization solution for a complex project, we can help you with that. Andovar is a localization company that specializes in custom games localization. We provide turnkey localization services, including localization engineering and both text and voice localization, among others.
We have locations in Singapore (global headquarters), India, China, Thailand, Hungary and Colombia. Get in touch today to ask us any questions about localizing your game or if you have an interest in working with us on a future project.
For those interested in learning more about the game localization process itself, please feel free to check out our Ultimate Games Translation Guide.