We are proud to announce that Andovar, a global provider of multilingual content solutions, has been recognized as one of the world's largest high-quality translation, localization, interpreting, and language technology companies.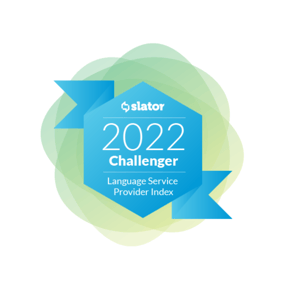 Our recognition comes from the respected Slator Language Service Provider Index (LSPI), and is determined by our company information, which includes revenue, year-on-year growth, corporate headquarters, ownership, and financial year-end results. LSPI produces ranking and indexing of global

Andovar's young employee base engages in a "follow-the-sun" project management philosophy which results in exciting, "can-do" results for our clients. We deal with a wide variety of brands to achieve maximum efficiency and the highest localization quality to drive global growth. In addition to translation management, we provide turnkey solutions for text and audio-based content. Our expert and forward-thinking technical expertise positions us to focus on emerging markets, including:
Mobile and web apps

Gaming

Web and commerce

Multimedia

Cloud software
Our prime and dedicated focus is on helping our customers to succeed in their global reach.


Slator Language Service Provider Index
As recognized by the Slator Language Service Provider Index, the information provided by Andovar is valuable to language industry participants, including service vendors, buyers, advisors, consultants, and investors used together with Slator's online news service and research.
Along with other language-based companies, Andovar uses this highly respected information as a barometer for our own performance and growth in the language services industry, and a guide for assessing strategic options as we continue to grow and move forward. Among the 27,000 language service providers in the world, LSPI ranks just 200 of these. The collective revenue of these companies showed an increase of 12.7 % in 2020, which is impressive in a year marked by the influence of Covid on so many industries.


Andovar's Global Reach
As more and more people move to different parts of the world to escape their country in hopes of a better life, they come to places where they do not understand the language. As a result, they may need translation services to be comfortable in their new environments. In addition, more industries are expanding to global markets where they need translation and interpretation services. An important trend in the translation industry, and one which Andovar is highly proficient at, is the offering of specialty language services. Also, in high demand is the need to provide voice translation and content, another of our special services.
Countries that are experiencing major economic growth and are attractive market sources for North American and European countries, are Brazil, India, and China. Because of this, they have emerged as economic powerhouses due to the saturation of North American and European countries. These growing areas, and the industries that are populating them, mean there is a major demand for top-notch translation services. Andovar provides expert services in all industry segments in Portuguese, and the many languages and dialects in India and China.


Strength of Localization Translation
In addition to major countries, markets are expanding into more under-developed countries, such as those in Asia Pacific. One of our major strengths is that we hire local language and industry experts. We employ 3,000 translators throughout the world, which means our localization capability sets Andovar apart.
With growing global customer outreach, Andovar is expanding to meet the needs of a variety of customers' preferences for specific languages. Many more companies, in many different industries, are choosing professional translation services in order to show sensitivity to national and international clients. To provide these services, we offer an integrated platform of data analytics and cloud computing so that data can be accessed by companies globally with increased storage capacity.
As customers look to employ multilingual content solutions, we here at Andovar offer our highly recognized services to industries throughout the world.
To further engage with Andovar, check out our social media presence.





For more tips and content for global growth, please visit our blog.