We've got a whole new look – and some exciting changes to share too! As well as updating our brand logo, colors and four new company websites, we've repositioned Andovar to better reflect who we are today and who we serve. If you've worked with us in the past, rest assured that our team still delivers the same level of service and commitment you're used to – and that we're here for you whenever you need us! Some things don't change, and that includes our commitment to the organizations that entrust us with their global branding.
We do have some other changes to go with the fresh new look. In the coming weeks, you'll see some new and emerging technologies, discover how our investments in innovation and key localization technology partnerships allow us to better serve your needs, and learn how we've made it more convenient than ever before to add the right messaging to your project.
New look, new options
Some of the latest offerings we're unveiling for you in 2020 include microsites dedicated to gaming, eLearning and broadcast media; innovations in AI, designed to boost efficiency, scalability and affordability; and an inclusive, turnkey approach to projects. Get the scoop on each of these new programs below – and thanks for joining us as we transition to our fresh new look! Visit the new look Andovar.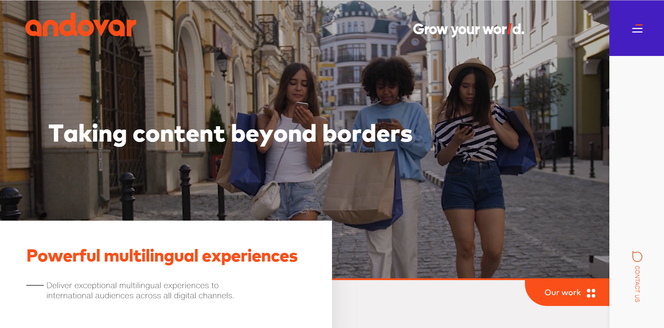 Innovative new technology for high-volume content
We've incorporated Artificial Intelligence directly into our offerings for large-scale content industries. Innovations in this area continue to enhance both the efficiency and affordability of translation and localization services. For creators and producers of high-volume content, such as e-commerce, travel and broadcast media, this means that translation can be completed almost instantaneously.
For those concerned that this approach might be a little too hands-off, don't worry! While our powerful AI is amazingly accurate, the initial step is designed to swiftly work through the initial stages of a project before it is handed over for further review by human expert post-editors to polish the content to the required standards.
Using AI for these critical first steps accomplishes several goals, including:
Making the most of the time allotted and ensuring overall adherence to deadlines.
Reducing overall costs, since less initial human interaction is needed.
Ensuring accuracy in both literal content (the meaning of words and main ideas) and cultural and linguistic qualities. This ensures your final content truly aligns and resonates well with your target audience.
Turnkey suites of services
While we have retained (and even expanded on) our already extensive lineup of services for multilingual and multi-media projects, we also realize that different creators and brands have unique needs. Because of this, we've made it easier than ever to get a single turnkey solution for every project. This approach ensures you end up with a streamlined and customized experience and a completed project you'll love.
Whether you need translation, voiceover, integration or testing, we will work with you to create a comprehensive offering that encompasses your needs under a single umbrella. We've discovered that this streamlines the process considerably and allows you to access every product or service you need in one location. You'll benefit from being able to see the big picture, from understanding the processes needed right from the start to experiencing a smooth, streamlined production process you'll wish you had in place on every project.
Niche microsites aligned with in-house expertise
One of the changes we're most excited about is the development of microsites designed to serve the needs of some key industry demographics. We realize that all audiences are not the same, and that the needs of a game creator may vary wildly from someone producing eLearning materials to productions for wide distribution and broadcast. Because of this, we've created microsites dedicated to several key industry niches. Our goal is to ensure you find the tools and expert assistance you need as quickly as possible, and that components you don't need are filtered out, leaving you with only useful, valuable tools and processes.
You'll find targeted new tools and content on the following freshly produced microsites:
Andovar Gaming
Whether you're creating your first mobile game or you are a major publisher creating AAA console games, you can find everything you need to enhance the text, voice and sound work of your production. We understand that the best way for your game and studio to be profitable is to be accessible and appealing to a global marketplace; all the tools you need to take that next step are right at your fingertips. Visit the site.
Andovar eLearning
Our skilled international team of professionals and technicians ensures that your learners not only understand the materials you are presenting, but that they feel at home and comfortable with them. From embracing cultural and regional norms to ensuring your learners can discover materials in their preferred dialects, we help ensure their (and your) success. Visit the site.

Andovar Studios
Large, complex and groundbreaking productions need comprehensive support, and our new studio division is designed to meet the needs of your next big production. From seasoned translators and skilled talent to the technology and tools needed to support a global launch, this division is designed to help with your largest and most complex projects. Visit the site.

Linguistic and cultural sensitivity
Why does some eLearning or gaming content soar when marketed to a global audience, while other pieces stumble? Translating words and sound is not enough by itself; if you want to resonate with audiences around the world, your materials also need to reflect unique cultural requirements as well. Your content can't make a lasting impression if the viewer does not get pop culture references or is offended by slang; you'll also run into issues if your final product inadvertently breaks cultural norms or traditions in different regions.
The world is more connected than ever before – which is a good thing – but when you launch a product, you need to be aware of the divine diversity of the world and the people who inhabit it. We make sure your work is truly ready to be presented to a worldwide audience and that the focus of attention is on your compelling content; not on a misstep or faux pas.
Welcome to the new Andovar
We've added plenty of new technology and capabilities to go along with our new look, but our commitment to excellence and service has not changed. We look forward to showing off these fresh innovations in the coming year and hope you'll let us know what you think – and how we can help your brand succeed.