Gamers have reconnected to their favorite digital habit in the wake of the pandemic. Even after COVID-19 is a distant memory, we expect the game market to continue generating upwards of $40 billion in the United States alone.

Plus, if there was any doubt that gaming isn't just for boys, that's truer than ever. About 46% of gamers are women. The latest incarnations of Animal Crossing have gained fans among women and young girls, for example. We are also starting to see a shift in the number of women who work in the gaming industry. Women in gaming increased by 3% to 24% in the latest data available from Statista. This diversity is slowly starting to appear in character choices, but there's plenty of room for growth.
Mobile Gaming and Esports

We group these two trends together because they are intertwined. Sports fans love to keep up with the stats on players and check in on scores from simultaneously broadcasting events. They do this on their mobile phones and tablets. It's no wonder, therefore, that mobile esports games are among the trends that will continue in 2021 and beyond.
Mobile Gaming has already gained significant inroads in China, Latin America and Southeast Asia. The convenience and availability of mobile apps supersede the inconvenience of smaller screens. and sales are expected to surpass PC versions of the most popular games.
Mobile esports have gain traction since the advent of PUBG Mobile and Garena Free Fire, which are now in the top 10 esports titles played. Both men and women are flocking to mobile esports games.
Esports consist of multiplayer video games where players join teams and compete against one another in front of an audience. Those who do not like to play still tune in to watch. Esports grew significantly during the pandemic which has yet to return to the days of watching sports teams live with a huge crowd. Developers should capitalize on both the audience and players in future esports platforms.

Game Remakes, Player Involvement in Development, and Game Boosting

Game remakes, player involvement and game boosting all respond to direct demands from the gaming community.
Millennials and Gen Z — a whole generation that never knew life before the digital transformation — have said yes to video game remakes of their favorite childhood games. Game manufacturers are rebooting old video game titles so they can be played on the latest devices, including mobile devices and PCs. Successful takes on remastered titles include Resident Evil, Crash Bandicoot and Final Fantasy.
Gamers have become more involved in development. In the past, game developers made games and released them with minimal testing. A fair amount bombed, so developers started permitting real users to access games early. Early access gaming improved the final releases of many games available on steam, for example. This trend has been so successful that many more games are expected to offer early access to an limited user base.
Game Boosting also derives from user frustration. When there's one artifact or special weapon standing between a user and the next level, they may lack the time or willingness to track it down. Instead of spending hours stuck on the existing level, gamers take advantage of sites that allow them to boost their powers, get weapons or buy protective armor that allows them to achieve the next level. This profitable side business will no doubt continue to become part of in-game features and help gamers cheat the system.

Cloud Gaming
Cloud Gaming has used the power of the cloud to revolutionize how users access games. Instead of installing downloaded games, they stream them on their devices.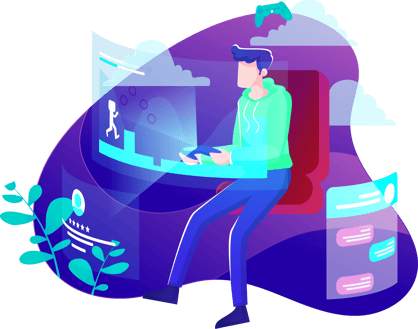 It also provides access to gaming without a high-end computer. Live games run on powerful servers, eliminating the need for computers with all the bells and whistles previously needed for strong performance and graphic capability. Cloud gaming typically works on a subscription model, which smoothes out revenue flow for developers and provides gamers with new games on a regular basis.
AR, VR and Voice Recognition
Augmented Reality or AR projects virtual objects onto scenes from the real world. It uses tablets, smartphones and AR glasses to achieve this. Pokemon Go was one of the first games to use AR on smartphones. Virtual reality games use headsets to project artificial elements on the screen as if they were part of an altered reality. This is now a multibillion-dollar industry, with virtual reality games becoming popular on platforms such as Oculus headsets and PlayStation VR. We will see much more on this trend as the technology continues to improve.
Face and Voice Recognition has been associated with application server security and video surveillance. However, it's also made inroads in video games such as NBA-2K15. The game allowed players to scan and superimpose their faces on avatars that played alongside NBA stars. Many systems use voice recognition to engage with the UI. It will be intriguing to see how these features are more fully develop in the coming years.
Socialization During Isolation
Gamers always used video gaming to meet and interact with people from across the globe. During the pandemic, they gave gamers the opportunity to interact socially even if they were isolated at home. With many jobs expected to remain remote and more parents deciding to home school children to avoid COVID-19, this trend is likely to continue for the next several years. Having users socially invested in a video game is great news for game developers, who can continue to add new features to existing games or advertise new games to established, tight-knit communities.
Andovar Localizing Services for Game Developers
Now that 5G technology powers a high percentage of active smartphones, mobile gaming and other trends will have an opportunity to continue blasting off. Smart game developers have already capitalized on the socialization prospects of future gaming. In order to help users connect with esports and other games, it's important to make them available in local languages.

You can count on Andovar to deliver the innovations you need for localized gaming. First, we become familiar with your game. Then, we select voice actors to bring your characters to life with superb performances. Andovar localization experts test the finished result on mobile, PC and other gaming platforms to verify performance and impact.
Contact the team at Andovar today for more information on our video game localization services, including voiceover and dubbing services.
Sources:
https://www.gameogre.com/trends-video-games-2021/
https://explodingtopics.com/blog/gaming-trends